This edition of Beach Area News will focus first on what is on everyone's mind, which is the coronavirus. We will then provide a brief security update and feature some photos from a Town Hall meeting with the Mayor and the City of Progreso to recognize the many contributions made by foreign residents and visitors.
CORONAVIRUS UPDATE
Information current as of March 15, 2020
There are now 41 confirmed cases of coronavirus in Mexico (Secretary of Health, 7PM March 14). Credible sources estimate that community contamination (meaning the virus is being spread by the local population, not by outside sources) will ramp up over the next couple of weeks.
https://www.eluniversal.com.mx/english/mexicos-covid-19-contingency-plan-three-key-phases-fight-coronavirus-outbreak
Many of our snowbird visitors from Canada and the US are making plans to go home, either on schedule or a bit early. We encourage those readers to visit the websites of your governments to get the most up-to-date information regarding travel back to the US or Canada. We have provided links to those website below.
For our readers who will be staying here in Mexico through April or who live here full-time, this edition of Beach Area News will provide you with links to credible sources of information that you can rely on to stay informed.  There is a lot of misinformation and confusing instructions out on the Internet and social media right now!  That is why the US Centers for Disease Control and Prevention (CDC) suggests that individuals avoid surfing all over the Internet looking for the latest information.  Locate a few trusted sources and focus on the information posted there.
For the next 30-60 days, cruise ships will no longer be coming into Progreso, and currently many public events are being cancelled in both Progreso and Mérida.  Since the Beach Area News Team is currently limiting our time in public spaces, we were able to invest some time over the weekend finding credible sources of information for those of us who will be here in the Yucatan for the next two months.
The first pages that everyone should visit are these:
(ADDED 18 March:  Yucatan government official information http://coronavirus.yucatan.gob.mx
https://www.cdc.gov/coronavirus/2019-ncov/prepare/prevention.html 
(For those heading back to the USA, after reading the page, scroll down and click Travelers.)
or
https://www.canada.ca/en/public-health/services/diseases/coronavirus-disease-covid-19.html
(Canadians who are headed home soon should click the Travel Advice link on that page.)
===
SPECIFIC TO MEXICO AND YUCATAN
Beach Area News is communicating regularly with our contacts in the Progreso city and Yucatan state governments.  Both entities are working to provide information in English and as soon as these are available, we will send an update to our readers. We have created a page on our own Website HERE; which will be filled with new material as we find it, so check it starting Monday!
The Mexican government and the US Embassy in Mexico City are advising anyone needing information or medical attention to call the Mexico Secretary of Health COVID-19 Hotline at 800 0044 800. English language operators are sometimes, but not always, available.
Meanwhile, we have been sent Internet and Facebook sites from our federal, state and local government contacts that you can use to stay informed about this situation. Facebook has a feature which allows you to translate posts from Spanish into English at the end of each post; just click See Translation.
–The Yucatan Health Department is putting out fresh information on their Facebook page:
–The Governor of Yucatan Mauricio Vila also posts information directly from his office:
—The US Embassy in Mexico City has current country-specific information on its Website:
https://mx.usembassy.gov/covid-19-information/
–The US State Department's information page is HERE:
https://travel.state.gov/content/travel/en/traveladvisories/ea/covid-19-information.html 
This includes links to the latest information on entry restrictions into the USA from foreign countries.
–If you're a Twitter user, the Mexico Secretaria de Salud (health department) puts out their latest information in Spanish at @SSalud_MX
And we found the website of the Americas Society Council of the Americas to be very helpful in directing us to credible government sources and distilling the most current information about Mexico into a digestible size.  (Scroll down to Mexico if necessary.)
https://www.as-coa.org/articles/where-coronavirus-latin-america#mexico
---
SECURITY UPDATE
There continue to be break-ins along the beach area of Chelem and Chuburna. At a recent Town Hall meeting with the Mayor, he was made aware of this situation and the Comandante of the Municipal Police Emilio Caamal indicated that two new beach patrol motorized quad units will be added in the coming days.
With the cancellation of cruise ships, many local businesses and the people they employ will lose a major source of revenue. We want to remind our readers to continue to be vigilant regarding their personal security as well as their homes. We cannot emphasize enough that prevention of a crime is far better than dealing with one after the fact. Visit our website at beachareanews.com to read the many crime prevention measures we have posted on our site. Be sure to download our Security Leaflet from the home page!
---
PROGRESO MAYOR HONORS LOCAL RESIDENTS 
Progreso Mayor Julian Zacarias Curi held a Town Hall meeting on March 11 to solicit questions from the expat community on how the City could improve its services to us. Issues that were raised to the Mayor included:
Need for improved security in Chelem and Chuburna
Uneven enforcement of rules to prevent unauthorized dumping of garbage
The importance of continuing City involvement in spaying and neutering of dogs and cats
The need for more bicycle parking in Centro
To address these issues, the Mayor announced the following new initiatives:
a Neighborhood Watch / resident association program that will be coordinated by City Department Directors
new laws that give the city increased ability to seize private property if the owner is creating a public nuisance (such as letting garbage pile up)
the purchase of a mobile veterinary services vehicle that is able to travel to the outlying areas of Progreso to perform spay and neuter services
new bike racks are being installed over the next few weeks
Tourism and Economic Development Director Manuel Rosado announced the upcoming addition of a native English-speaking staff person to the Foreigners Assistance Services Team (FAST Progreso). This person will enhance the ability of the City to provide more information about its services and activities in English.
The Mayor made it very clear that the City of Progreso appreciates all of the ways that expat residents and visitors contribute to the local economy and the well-being of the community. A number of individuals were recognized for their efforts in organizing formal assistance programs; see the photo below and more on our Website.  The Mayor also recognized our very own Bob Rentz–currently somewhere on the oceans of the Far East–for his efforts on helping to organize the roll-out of the new trash collection system.
And finally, the Mayor acknowledged the Beach Area News team for our service to the community!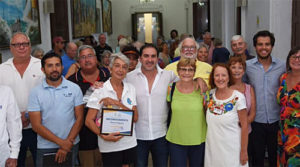 ---
THANKS FOR READING!
On behalf of all of as the Beach Area News Team, stay safe, stay informed, and wash your hands often!  For those of you heading home, Buen Viaje and see you next season!
The Beach Area News Team: Bob Rentz, Speranza Avram, Karen Cloutier, Dave Bloch and David Nevers