REVISED 5:00 pm MARCH 27, 2020
Click here to view our March 24 Email Newsletter
ABOUT THIS PAGE: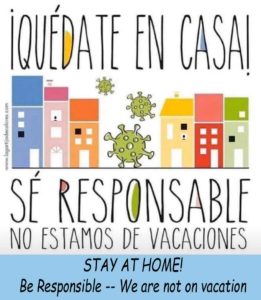 Beach Area News has created this page to hold information more detailed and recent than is appropriate for the Newsletter.  Information will be added as we find it.
IF YOU HAVE SYMPTOMS (Fever, Cough, Sneezing, Muscle pain, Headache, Difficulty breathing)
CALL 800-YUCATAN (800-982-2826)
Call this number BEFORE YOU CALL YOUR DOCTOR.
The line is answered by machine and you receive a long list of options, all in Spanish.  PRESS 9 and ask for "Help in English please."  Our test call was answered very quickly by a bilingual staff person.
Yucatan State Government Official Information: http://coronavirus.yucatan.gob.mx 
---
BEACHES ARE CLOSED
As of 11:30 AM on Sunday, March 22, all of the beaches within the Municipality of Progreso (from Chuburna thru Chicxulub) are officially closed.  The Mayor made the announcement on their Facebook page;  Beach Area News confirmed that the police will ask anyone on the beach to leave and go home.
All bars, discos and clubs are closed.  Many restaurants are closed (some are open only for takeout/delivery) and all restaurants must close by 10:00 PM.
---
On March 23, the Mayor of Progreso Julian Zacarias Curi gave a comprehensive update to the city emphasizing the importance of staying home and practicing social distancing during the next two weeks.  Thanks to the administrator of the Chelem Amigos Facebook group Sal Lizarraga Perera for recording this real-time translation!
 VIDEO: Translation of March 23 speech
---
Mexico Federal Health COVID-19 Information Hotline
(English operator might be available):
800-00-44-800
TWITTER:  Mexico Federal Health Dept feed:  @SSalud_MX
---
GOVERNMENT FACEBOOK PAGES
---
MID City Beat:  Merida Reporter Stephanie Carmon has a Website and does a daily COVID-19 update around 9:00AM.
---
MEXICO GOVERNMENT INFORMATION:
(in Spanish; use Google Chrome to translate)
https://coronavirus.gob.mx

US GOVERNMENT INFORMATION:
https://www.cdc.gov/coronavirus/2019-nCoV/
CANADA GOVERNMENT INFORMATION:
In English:
https://www.canada.ca/en/public-health/services/diseases/coronavirus-disease-covid-19.html
or French:
https://www.canada.ca/fr/sante-publique/services/maladies/maladie-coronavirus-covid-19.html
---
CLEANING VS. DISINFECTING
These two activities are connected but NOT the same!  Here is the CDC advice:
To disinfect surfaces:
Most common EPA-registered household disinfectants will work. Use disinfectants appropriate for the surface.  But you do NOT have to rush out and buy special chemicals or wipes; just make your own from this very easy and cheap recipe:
Make a bleach solution!  Just mix:
4 teaspoons bleach per quart of water (or make it 5 teaspoons per liter)
Follow manufacturer's instructions for application and proper ventilation.  Check to ensure the product is not past its expiration date.  Never mix household bleach with ammonia or any other cleanser. 
You can also use alcohol solutions containing at least 70% alcohol.  Denatured alcohol is available at supermarkets, abarrotes shops (like Willys, Waldos and Dunosusa) and farmacias.  Do not take alcohol home on the plane; it is plainly labeled Peligro Inflamable!
---