[Get this Newsletter in your Inbox!  Email your request to team@beachareanews.com]
Beach Area News
September 28,2018

This is the first issue of Beach Area News published using an e-mail list manager called MailChimp. We now have over 420 subscribers so managing our list was getting more complicated!  And because we now have our Website beachareanews.com to store information for reference, we can more fully integrate the newsletter and the Website so that you can find the information you need. 
We've also changed our e-mail address to team@beachareanews.com So please drop us a note to comment on our new look!  Thanks!
The Beach Area News Team
Bob Rentz, Speranza Avram, Karen Cloutier, David Nevers, Dave Bloch
---
The Beach Area News Team has been busy meeting with local and state officials to learn more about what changes may be in store as a result of the recent elections.  Below is an update on our meetings as well as useful information about what to do in an emergency here at the beach.
State government transition – There will be a new governor for the State of Yucatan beginning October 1. As part of this transition, we met with Ing. Erik Rubio, Coordinator General de Assesores, and his team including Yucatan Director of Foreign Affairs, William Perez Loria, and Lic. Olivia Bakker Gomez, Foreign Affairs Liaison. We thanked them for all of their support over the past few years and to emphasize that we hoped to have the same excellent rapport with the incoming administration.  Also present at the meeting was the State Police Comandante Alberto Carmago and Comandante Luis Varguez Chacon Vargas, who invited us to tour the state's new 9-1-1 and video monitoring center the following week.  Once the new administration takes office, we will reach out to begin a dialogue with them.
Here is a local news story on this meeting:
http://progresohoy.com/noticias/autoridades-coordinan-esfuerzos-para-garantizar-tranquilidad-de-residentes-extranjeros-10105750/
---
Yucatan 9-1-1 Emergency Services Center –  The BAN team toured the state's 9-1-1 center and were amazed at the amount of sophisticated technology used to help the state of Yucatan remain one of the safest places in Mexico.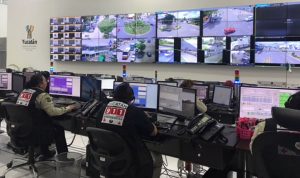 9-1-1 operators are available 24 hours per day to handle all emergencies (police, fire or ambulance).  Of special note to English-speaking residents, there is one designated English speaking 9-1-1 operator on duty at all times.  There is also a direct-dial number to that operator for those who do not have a Mexican landline or mobile phone.  For full details on how to use this service, please visit this page at beachareanews.com.
One thing we learned is that regardless of the type of emergency you have, a state or local police officer will always arrive on the scene. This is because they know our neighborhoods best, can arrive faster than any other responder, and can then help coordinate with other first-responders to ensure you get the proper type of emergency service.
In addition to the 9-1-1 system, the Emergency Center operates a network of video surveillance cameras all over the state that monitor traffic into the state and follow-up on suspicious activity. For example, there are 120 cameras along the coast in areas like the port, the Malecon, major intersections, and roundabouts. In that huge room, video is monitored 24/7 on over 100 screens by specially-trained personnel.
We also visited the police investigation center where officers follow up on reported crimes.  We were all very impressed not only by the technology that is being used here but also by the professionalism of the individuals working at the center.
Here is a local Web article on the visit:
https://yucatanexpatlife.com/coastal-expats-in-yucatan-get-a-tour-of-police-facilities-technology/
---
Progreso City Meeting – A meeting was held on September 19 with Progreso's new Mayor Julian Zacarias Curi, Tourism and Commerce Director Lic. Manuel Jesus Rosado Heredia, and Director of Public Safety and Traffic Emilio Raul Caamal Gutierrez.  The Mayor gave us his commitment to provide improved conditions for visitors as well as the expatriate community.  His desire is to increase tourism and provide favorable conditions for those looking to relocate to this area permanently. He told us about the existence of several new lines of communication that will allow individuals to report specific problems (like potholes, broken street lights, and garbage or water issues) to the local government. Currently these are only available in Spanish, but the City is working to make these services bilingual as much as possible.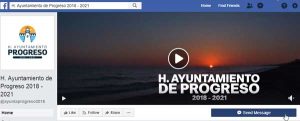 First, the City has a Facebook page.  Go there and click SEND MESSAGE. Or, you can call the City at 969-103-6005 or WhatsApp to 999-585-1779.  In addition, an interactive kiosk for reporting needed services or repairs was installed at the City Hall building in Progreso.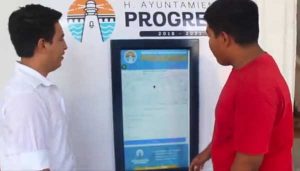 The Director of Public Safety advised us of the existence of bilingual Tourist Police along the Malecon and he anticipates addition of more bilingual Staff in the near future. Lifeguards are now on duty on the beach and the municipal ambulance is now parked at the Parque de la Paz.
The Director of Tourism and Commerce, Lic. Manuel J. Rosado expressed his desire to meet with members of the community to develop opportunities for growth in the area.  He hosted a meeting for all restaurant and hotel owners this week to present programs and to establish new communication opportunities.
We are encouraged by the commitment of this administration to improving living conditions here, and to have open communications.  We are working with the City to organize a community meeting with expat residents and snowbirds later this year. Stay tuned for further developments.