IN THIS ISSUE:
This is the second Beach Area News this month, as we prepare for the winter season! Here's the News for you:
Dia de Muertos Events
Security Update
Welcome Party SAVE THE DATE!
DIA DE MUERTOS EVENTS
The City of Progreso has planned a number of events for the weekend of Dia de Muertos. There are several attractions on the new International Malecon (west of the pier), along with a full schedule of activities for November 2 (scroll down).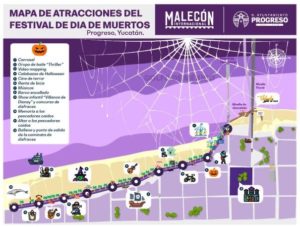 EVENTS SCHEDULED FOR SATURDAY, NOVEMBER 2: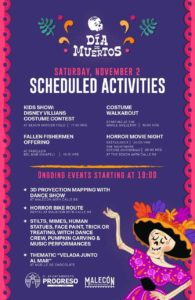 PUMPKIN CARVING CONTEST
David Wright is organizing a pumpkin/Jack o' Lantern carving contest for next week's Day of the Dead/Hanal Pixan/Dia de Muertos event with the City of Progreso next weekend, Nov. 2. There will be some wonderful prizes from local restaurants and businesses! If you can't find pumpkins, feel free to get creative: gourds, melons, papayas, whatever. The three categories will be Scariest, Cutest/Funniest and Best Overall. Contact David Wright directly at david@w3groupmarketing.com if you would like to enter.
SECURITY UPDATE
As we welcome the return of the snowbirds, this edition of Beach Area News will provide some common-sense security reminders of how to avoid being the victim of a crime and what to do if you are.
First, we have updated our Security Leaflet. We suggest you print and post it in your home, along with your street address in Spanish. (Write it out phonetically and practice it if you have to.) If you need to call for help, you must be able to say your address in Spanish.
The increase in snowbirds visiting our area can often bring an increase in home break-ins. The best advice we can give you us to get to know the neighbors on your block. If you are new, introduce yourself. Once you learn who is supposed to be on your block, it will be easier to tell who is not supposed to be there.
Over the last few weeks a number of individuals have begun posting on a new Facebook Group, Yucatan Community Watch, when they have seen people that may not belong in the area or who have looked like they could be on the verge of committing a crime. We thank all of you for being observant and alerting others. However, more important than posting on Facebook is to call 911 to report suspicious activity. Reporting suspicious activity to the Police gives them a record of activity so they can react immediately to that activity.
So we ask that every individual become more observant and if you see anything that does not look right, call 911. Do not be afraid to be "crying wolf;" the police here would much rather respond to 10 false alarms than not be alerted and then respond to a crime. They view this as doing their job.
After you call 911, it's fine to post your observation on Facebook to alert others of the potential threat. But please remember: no thief was ever deterred, captured or punished by just posting on Facebook.
Finally, if you unfortunately are the victim of a break in or other crime, file a report at the Fiscalia. Details of how to do this are included in our Security Leaflet that you can DOWNLOAD HERE. This report gives the Detectives and Police the ability to respond and prosecute individuals caught. Without the report it is as if the crime never happened and no investigation or prosecution can take place. We know the reporting process is not always smooth, but issues are being addressed.
We will conduct a Security Update meeting in December when more snowbirds have settled in. With your help in being observant and reporting suspicious activity or crimes, we hope it will be a meeting celebrating success in crime prevention.
SAVE THE DATE!
NOVEMBER 21, 4:00 TO 7:00 PM at the Costa Club in Yucalpeten. Watch for much more information in our next Newsletter.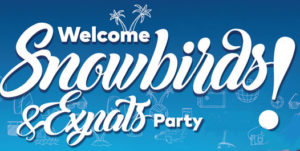 Wishing you a very happy Dia de Muertos holiday week!
The Beach Area News Team
Bob Rentz, Speranza Avram, Karen Cloutier, Dave Bloch, David Nevers
Copyright © 2019 Beach Area News, All rights reserved.