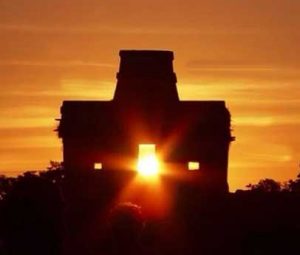 Sunrise Through the Temple of the Seven Dolls, Dzibilchaltun
IN OUR SPRING EQUINOX ISSUE:
• Call for Interest: Yucatan 911 Center Tour
• Notes from the 19 March Merida US Consulate Town Hall Meeting
• RESULTS from the 2018-19 BeachAreaNews Expat Survey
________________________________________
Call for Interest: Yucatan 911 Center Tour
In 2018, a contingency from the beach was invited by the State of Yucatan to visit their 911 Call and Monitoring Center in north Merida. (Read a brief article on our visit in Yucatan Expat Life.)
The State has invited us once again! To do the tour they need at least 10 people, with a maximum of 20. The tour will have to be arranged before Semana Santa (when things get much busier). If you are interested in being a part of this activity, please Email team@beachareanews.com no later than April 1 2019.
________________________________________
Notes from the March 19 Merida US Consulate Town Hall Meeting
More than ninety US citizens visiting or living in our beach area came to La Cola del Cocodrilo in Progreso on 19 March to hear a presentation by representatives brought together by the US Consulate in Merida and to ask questions . After a welcome from Beach Area News team member Bob Rentz, new US Consul General Courtney Beale introduced herself and the other presenters:
Lic. Enrique Alcocer Bastro, Proteccion Civil, State of Yucatan
Chris Keenan, Regional Security Officer, US Consulate Merida
Natalia Almaguer, American Citizens Services Chief, US Consulate Merida
Ing. Maria Alejandra Aguilar Molina, Instituto Nacional de Migración (INM) Merida
Hilda de Hoyas, Social Security Administration Federal Benefits Unit, Mexico City
Juan Alejandro, Guerrero, Social Security Administration Federal Benefits Unit, Mexico City
More information about services is available on the US State Department Website:
American Citizens Services Chief Natalia Almaguer described the services provided by the Consulate. These include the routine services like Passport Renewal, reporting a birth to a US citizen while in Mexico, and Notary service. There are also special services, for example, creating a Consular Report when a US citizen dies, and coordinating actions when a US citizen goes missing.
The Consulate hours are 7:30AM to 4:30PM. There is a Duty Officer available 24/7 at (999) 942-5700.
The Consulate also has offices in Cancun and Playa del Carmen.
Natalia emphasized that the Consulate is a liaison between the US and local public/private entities. It does not take actions that are the responsibility of Mexican government agencies.
Security Officer Chris Keenan primarily pointed out this his office is responsible for the safety of Consulate staff and visitors to the building. He spoke about the perception that foreigners are targeted for theft and other crimes. "We are perceived as being more wealthy," said Mr. Keenan. But we are targeted because of the view that we have more to steal, NOT because we're from the US or Canada.
Mr. Keenan advised the attendees to report crimes to the Consulate at (999) 942-5700 after doing so to the Mexican authorities (e.g., the Fiscalia). The Consulate can advise you about steps that might happen in the process (for example, a pre-trial meeting you must attend for the prosecution to continue); the Consulate also keeps data on crimes to back requests for additional services.
Hilda de Hoyas from the Social Security Administration Federal Benefits Unit informed the audience that around 96,000 Americans receive benefits from the SSA in Mexico. Their Mexico City office is available for information, questions and applications for Social Security and Medicare; Email fbu.mexico.city@ssa.gov
Maria Alejandra Aguilar Molina (known simply as "Alejandra" by the crowd, who gave her a rousing ovation because of her many years providing excellent services in the INM Progreso office) talked about the services of INM, the Instituto Nacional de Migración. She is now in the office in Merida, but the Progreso office staff is there to help with around 30 different processes involving residency applications, address changes and extensions. She suggested visiting the INM Progreso office at the very beginning of any process to learn first hand exactly what documents you will need and what procedures to follow.
Lic. Enrique Alcocer Bastro spoke about the responsibilities of the Proteccion Civil office of the State of Yucatan. They coordinate response to natural disasters such as fires (fire season is from December 1 to May 31) and hurricanes (storm season is from June 1 to November 30). Proteccion Civil sets up emergency shelters and coordinates activities of other agencies, like the Bomberos and Police. Should an emergency require you to move to a shelter, they can help you communicate with family members about your situation.
After the presentations there were some questions from the audience. Some of general interest are included here:
Can Social Security (SS) death benefits be sent to a spouse who is a Mexican citizen?  YES, but with requirements/restrictions; contact the FBU.
Can SS payments go to a Mexican bank account?  YES, they need the CLABE. This long number is on your statement, or get it from your bank.
I did not get my annual address confirmation statement from the SSA. What's wrong?  You are ONLY sent this form if SSA has only a Mexico mailing address on file for you, and in that case it is up to you to watch out for it. They can send you this form by Email so you can have it ready to send every year. If you have a USA mailing address on file with the SSA, the form will not be sent to you and no annual confirmation is required.
How do I vote in US elections?  Voting residency requirements and procedurles vary from state to state. The information for every state is at the Federal Voter Assistance Program Website.
Is it OK to carry only a copy of my Mexican residency card with me, and leave the original safe at home?  NO, you must carry the original at all times.
If you miss your Temporary Residency renewal date, do you have to start the process over?  YES, but you do have a 60-day grace period after the expiration.
After the information and question and answer period, representatives from the Consulate, INM, and the Federal Benefits Unit held one-on-one meetings with some attendees to address more sensitive issues. The individuals involved were extremely thankful for this special attention to their concerns.  We believe this contact continues to grow the strong connections between our Beach Area community residents and the support organizations.
Local resident David Wright attended the meeting; read his more detailed write up on his Life in Progreso site.
THANK YOU to the US Consulate for bringing this event together for us!
________________________________________
RESULTS from the 2018-19 BeachAreaNews Expat Census Survey
Our BeachAreaNews Expat Census was opened in October, and closed last Friday. We received a total of 785 responses! We know there are many more extranjeros than that who visit and live here, but the data is still very interesting. We told you in our invitations that it would take about 1 minute; SurveyMonkey tells us the average time was 57 seconds. Please remember that these results only reflect data received from those who filled out the survey. We cannot make any claims about what this data represents except as it relates to those individuals who submitted the survey.
We have more number-crunching to do, but here are the highlights for each question:
1) How much time are you here on the Yucatan Coast each year?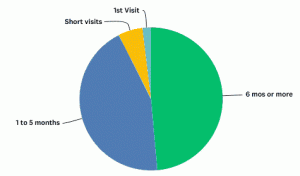 49% of respondents ("The Expats") live here at least 6 months, followed by 44% of "The Snowbirds" here 1 to 5 months. Only a small number of respondents come for a short vacation visit. (Of course, we did not get cruise ship visitors responding to our survey.)
2) Where do you live at the beach?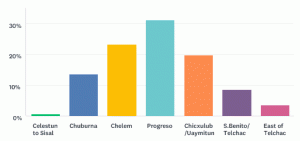 This bar graph really shows Progreso to be the 'Big Apple" at the beach, with 31% of respondents living there. And more of the respondents live in Chuburna/Chelem (37%) than in the much longer strip from Chicxulub to Telchac (28%).
3) Do you own, rent or something else?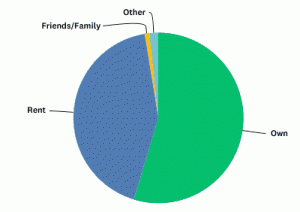 55% of respondents own our homes, while 43% rent. A bit more number-crunching revealed that 57% of the Homeowners have Permanent Resident visas, while 82% of Renters are here on Tourist visas. (See Question 5 for the "Status" data.)
4) Where are you from?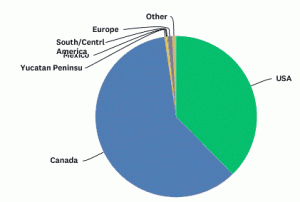 No big surprise here: 60% of respondents are from Canada and 38% from the USA. (Keep in mind that Americans have warm places within their country where they can go; Canadians are choosing to fly right over the States and land here instead!) The last two percent come from everywhere else.
5) What is your immigration status?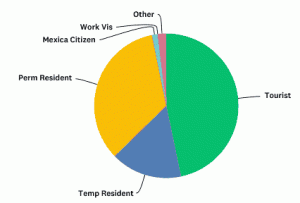 The largest contingent of respondents (47%) is here on Tourist visas, then Permanent Resident status at 34% and Temporary at 16%. Mexico is very generous with Tourist visas, allowing the 180-day stay that works perfectly for Snowbirds.
THANK YOU to everyone who responded to our survey! We'll be sharing the summary results with the area agencies that serve the area in order to help them understand us better and improve their services.
To you Snowbirds, Buen Viaje! Have a great summer!
The BeachAreaNews Team
Bob Rentz, Speranza Avram, Karen Cloutier, Dave Bloch and David Nevers
Copyright © 2019 Beach Area News, All rights reserved.