IN THIS ISSUE:
• US Consulate Meeting March 19
• Walking Safely
• Carnaval in Progreso
• Coming up in our next Newsletter
US CONSULATE MEETING COMING TO PROGRESO MARCH 19
Beach Area News is pleased to be working with the US Consulate in Merida to host an informational meeting for US citizens living in our beach communities. Here is the invitation from the Consulate:
U.S. Consulate General Merida, Mexico
Message for U.S. Citizens: Town Hall Meeting in Progreso
Tuesday, March 19, 2019
The U.S. Consulate General in Merida invites all U.S. citizens to join us for a Town Hall event on Tuesday, March 19, 2019 in Progreso at 2:00 p.m. at La Cola del Cocodrilo Restaurant located on Calle 40 x 23 y 25. At this meeting Consulate staff will provide information on services provided by the Consulate.
The agenda for this year's event is as follows:
• Message from Consul General Courtney Beale
• Remarks by American Citizen Services Chief Natalia Almaguer
• Remarks by Regional Security Officer Chris Keenan
• Remarks from Social Security Administration Officials from Embassy Mexico City
• Remarks from Mexican Immigration Officials (INM)
• Remarks from Mexican Civil Protection Officials (Proteccion Civil)
• General questions and comments from U.S. citizens attending the Town Hall
Please come and bring questions about issues that are important to you. Staff will be available after the remarks to answer individual questions. We look forward to seeing you there.
Please note that we will not provide any consular services at the town hall.
=====
WALKING SAFELY
There was a disturbing incident of indecent exposure by a male that occurred along the Calle 5 beach road in Chuburna between Calles 196 and 2A that our readers should be aware of. This incident happened the first week of March at approximately 9:15 in the morning. This is the first incident reported in this specific area.
A man in a red Kia Rio sedan pulled alongside a woman out for a walk. He got out of his car and exposed himself. She did her best to avoid him, and eventually found a group of construction workers; she stood with them awhile and he left.
This incident has been reported to the authorities. They informed us that sexual harassment (of which indecent exposure is an example) is a crime in Mexico. Specific evidence such as photos of the person, photos and/or the license number of the car is required for them to investigate the case.
Remember these safety tips when walking:
• Always carry your cellphone
• If possible, have a partner walk with you (or a dog)
• Avoid walking in isolated areas by yourself
• Be aware of your surroundings
===========
CARNAVAL IN PROGRESO
The Extranjeros "ELVIS" double-decker bus participated in the huge Carnaval afternoon parades on Sunday and Tuesday. The crowds smiled, laughed and waved at the expats on board. The Sunday parade also featured nearly twenty kids from the Ayalem School in Merida, who danced joyfully out front of the bus most of the way down the Malecon!
According to Progreso Director of Tourism Manuel Rosado, the police estimate of Sunday's crowd was 200,000, the biggest ever. Carnaval is definitely growing in Progreso!
We have a few photos to share with you, many more are posted in social media including the Facebook Yucatan Beach Friends group.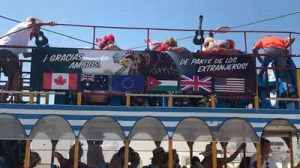 The sign on the side of our Extranjeros bus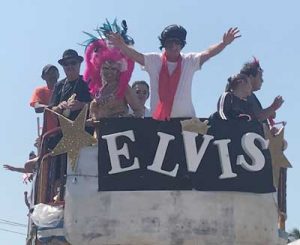 Elvis the King waves to the crowd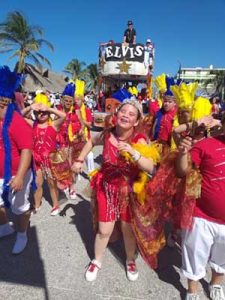 The Ayalem School kids leading the way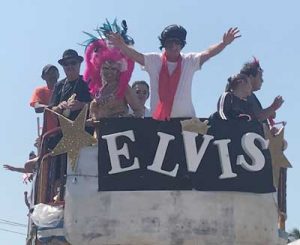 Bob Rentz (as Elvis) and Speranza Avram on the bus during the Sunday parade
COMING UP IN OUR NEXT ISSUE
The final report from our Expat Census! If you've not yet taken the one-minute, 5-question anonymous survey to be counted among the visitors and residents of the beach area, please go to our SurveyMonkey page right now! We will close entries Friday March 15.
Highlights from the US Consulate Town Hall March 19.
…and other items of interest to the beach area
See you next time!
The Beach Area News Team
Bob Rentz, Speranza Avram, Karen Cloutier, Dave Bloch and David Nevers
Copyright © 2019 Beach Area News, All rights reserved.