The beach area has a completely new garbage collection system!  Here is everything we know to date (December 17, 2019).  This page will be updated as the system is tweaked and new information is gathered.  If you have any different experience or information, please let us know with an Email to team@beachareanews.com .
WHY IS ALL THIS HAPPENING, AND WHY THE NEW FEES?
For those in Progreso, paying for trash pickup is not new; city residents have paid private collectors for years.  For those in Chelem, Chuburna and Yucalpeten, collection was free but fraught with problems.  The local government has listened to our concerns and already made a vast improvement in this area; the new system requires revenue from all of us and our Mexican neighbors as well.
Paying a fee for trash disposal should not be new to US and Canadian citizens (although it may have been wrapped up in your local taxes).  Even the worst case here (MX$200) is about $10 US or $14 Canadian a month, and that is for two pickups a week.
I'M A RENTER. DO I HAVE TO PAY THE TRASH FEE?
NO. Your landlord is responsible for payment. (They can include it in the rent you pay them; make sure that is clear in your lease.)
WHO IS DOING THE COLLECTING?
Prolimpia, the Progreso branch of a Mérida company, is using City trucks and adding resources as they better understand the volume of trash.  (They started with two trucks and are now up to five.)  They will also be adding small dumpsters as need is identified.
HOW OFTEN WILL THEY COME?
The schedule calls for two visits a week. The days are shown in the table below.  There will be no collection on Mexican holidays; here are the dates for 2020.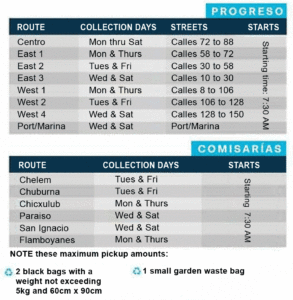 WHAT WILL THEY TAKE?
The official limit is two black plastic trash bags, with a weight limit per bag of 5 kilograms.  (HELPFUL HINT: if you're not sure how to estimate that weight, buy a 5-liter bottle of water; it weighs about the same.)
During this initial cleanup period Prolimpia is not strictly enforcing the rules.  Here's what to know:
If you have three large bags, they will take them. If you're going way over, then you need to discuss it with the supervisor Manuel Sanchez. He is with the men at least once per week.
Small amounts of Yard Waste can be put in your normal trash bags.

For large quantities of yard waste, Prolimpia has agreed to send a truck once a week!   The truck will roll on Wednesdays.  For a pickup, call Prolimpia at 969-103-6494 not later than noon on Monday.  If you need help in English, ask for Yaremi Zarate.  (Please be patient as this system is being implemented and evaluated.)

If you have cardboard boxes (which quickly rip plastic bags), they will take reasonable sized flattened cardboard boxes. If you have very large boxes (like from big your new TV), cut them in smaller pieces to reduce the size. If you have numerous ones they need to be tied together for easy handling.
HOW MUCH WILL IT COST?
Monthly rates are shown below.  They are based on social economic conditions in different neighborhoods; poorer areas (called "Popular") pay less.
Most expats live nearest the beach, and will fall into the Residential Veraniega ("summer resident") rate.  The monthly rates depend on where you live.  If you are a full-time permanent resident, you can get a discount from the $200 Veraniega rate!  See the DISCOUNT section at the bottom of this page for eligibility and the process.
You will receive a trash bill (shown below) with your next SMAPAP water bill.  If you do not receive a trash bill, and you have a water bill, take your water bill to the Prolimpia office to have your rate set up in the system.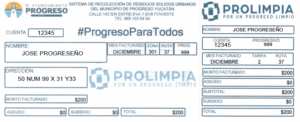 Comisarias outside the beach zone (Chelem, Chicxulub, etc.)  $25
Summer-only Residents (including Comisaria beach zones) $200
Progreso City residents see the maps below:

Local

Residential Zone

$70
Zona

Popular Media

  $30
Zona

Media

$70
Zona

Popular Alta

  $50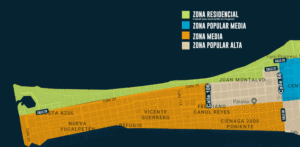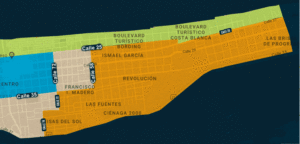 HOW DO I PAY MY BILL?

So far, only in person, at the SMAPAP offices on Calle 80  or the Oficina de Predial (tax office) in City Hall.  You will be charged the billed rate.  If you feel you are entitled to a discounted "Residencial" rate, see the DISCOUNT section below.  Pay up to one year in advance (12th month free if you do that).
NOTE that you cannot pay your SMAPAP water bill at the Predial office.   Also: the Prolimpia drivers and collectors cannot accept money from anyone.
I'M A LANDLORD.  CAN I GET THE DISCOUNTED RATES?
If you live here full time and qualify for any of the discounted rates mentioned above, you can follow the instructions below for getting that rate on your primary residence; Prolimpia will apply that rate on all your properties.  You must visit Prolimpia's office and take all your bills.
AROUND MY HOUSE ARE PROPERTIES OWNED BY MEXICANS WHO ARE NEVER AROUND.  WILL THEY BE PAYING THE FEES?
The Mérida home owners and other Mexican property owners will be assessed the fee and required to pay.  The new system will not result in the trash being placed in front of your house or in the Entradas. There will be policing.
WHAT IF I BOUGHT MY HOUSE BUT NEVER TRANSFERRED THE WATER BILL FROM THE OLD OWNER, EVEN THOUGH I KEPT PAYING IT?
You need to get the bill in your own name; the cost of the transfer is 150 pesos.  Take copies of these documents to the SMAPAP office:
Fideicomiso
Receipt for your 2019 Predial (property tax)
Passport
Both sides of the existing water bill
You also need to present a very simple letter, in Spanish, that requests that the city change the name on the bill to yourself as the current owner.  (Bob recently did this and it is very easy. This process will become more important in the coming months.)
You will receive the pink copy of your contract.  Take it to Prolimpia on Calle 142 to get the name change on your trash bill.
WHAT IF I DON'T USE CITY WATER?
If you are connected to SMAPAP, even if you only use private well water, there remains a liability on you and your property.  The city is willing to  negotiate a settlement.  Details on that to follow.
The same goes for those who have never been connected to SMAPAP, or if their SMAPAP contract was terminated; details to follow.
WHAT IF I JUST WANT TO TAKE MY OWN TRASH TO THE DUMP?
You are still liable for the fee.  Keep in mind that picking up your trash is not the end of the service; the dump itself is a huge maintenance expense; in fact, it is just a transfer point for the trash to be hauled to Mérida.  The extreme overload of the dump is being addressed; a solution is in the works.
WHAT DO I DO IF THE TRASH COLLECTORS ASK FOR MONEY?
They are NOT allowed to collect money.  Period.  See the next paragraph.
WHO DO I CONTACT FOR PROBLEMS?
If you have any issues with service, contact Head Supervisor Felipe Pech Borges.  He speaks English.  His preferred form of written communication and the best way to get results is WhatsApp at 999-947-1071.  If you do not have WhatsApp, you can Email him at log_prolimpia@ayuntamientodeprogreso.gob.mx .
Please make sure you provide as much descriptive information as possible: city, street, cross streets, landmarks, entradas if appropriate.
---
To qualify for the discounted "Residencial" rate, you must establish that you are a full-time resident. That means either you have a Yucatan Drivers License with the address matching your SMAPAP bill, OR a Permanent Resident INM green card.  You only have to do this process once; you will be in the system and be billed the lower rate from now on.
If you have a Mexican drivers license, you can take it and your trash bill to the Prolimpia Office, at Calle 142, between 31 and 33 in Progreso.  Their hours are 8AM to 2PM Monday thru Saturday.   Ask for Yaremi Zarate and tell her you qualify for the discounted Residencial rate.  Yaremi speaks excellent English.
(Note that if you pay the full year, the 12th month is free.  So, if your rate is 70 pesos, you will pay $770 for a full year service.)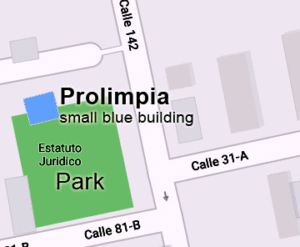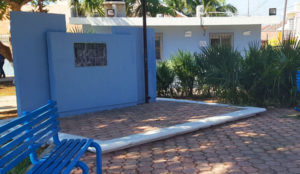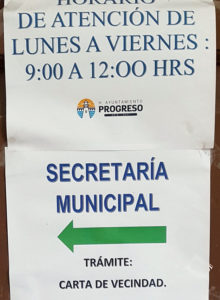 PLEASE NOTE:  As of mid January, it appears that Prolimpia is no longer requiring the Carta de Vecendidad letter described below.  Customers report just going to Prolimpia with water bill and Residente Permanente card in hand and receive the discount.
Without the drivers license, you must start the process at the Municipal Secretary office, inside the Municipal President (Mayor's) office at City Hall.  The City has made it very easy to find; enter the front doors, go up the (long) stairway and turn left.  NOTICE THE HOURS:  9:00 AM to 12:00 Noon.  You will be asking for a Carta de Vecendidad (Neighborhood Letter).  There will not be bilingual staff at the Municipal building.
Take the following items with you:
Your birth certificate or passport, AND A COPY OF IT.
Your Permanent Resident card, AND A COPY OF BOTH SIDES OF IT.
Your SMAPAP bill, AND A COPY OF IT.
Your Prolimpia bill.
You will receive a half-page form.  Take that downstairs to the Oficina de Predial on the south side of the building and go to the Otros Derechos desk.  Pay the $50 peso fee for the Carta de Vecendidad; they will stamp your form.  (HELPFUL HINT: if you haven't paid your Predial yet, do that at the same time!  The earlier you do it, the shorter the lines and bigger the discount.  They accept cash and credit/debit cards; we do not know if that includes US/Canada cards.)
In a day or two (they will tell you), return to the Municipal Secretary with your stamped form, and you will receive your letter.  Take that letter to the service window at the Prolimpia office mentioned above, see Yaremi Zarate and she will lower your rate.